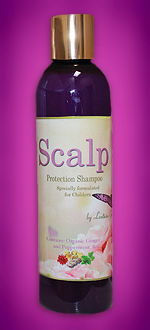 Kid-Friendly Shampoo
Louticia Grier's Kids Scalp Protection Shampoo is specially formulated for children's hair. This kid-friendly shampoo helps protects kids' hair leaving them happy and healthy. It's gentle, but effective enough for the whole family. Louticia's hair care products nourishes and moisturizes even the most sensitive hair and scalp.
Price: $12.95
Size: 8 fluid ounce bottle
[wp_cart_button name="Kids Scalp Protection Shampoo" price="12.95″]
For external use only. Supervise the use by children. If irritation occurs, discontinue use. If condition persists, consult your health care practitioner.
Contains: Organic ginger and peppermint root.
Directions: Apply to wet hair and scalp, and massage well. Allow to remain in hair for 3 to 5 minutes then rinse thoroughly. Use as often as needed. For best results, use with Kids Scalp Protection Conditioner.
Why Use Kids Scalp Protection Shampoo
Ideal for all hair types
Protects the hair and scalp
Tames unruly hair
Pleasant bubble gum fragrance