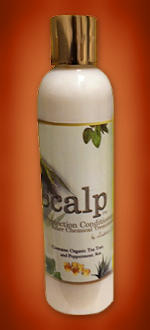 Are You Ready For Silky Hair?
If your hair is unmanageable and you recently experienced scalp trauma such as hair coloring, hair straightening or have just taken out a weave or braids, a tedious comb out is bad timing.
Louticia Grier has formulated "Scalp Protection Conditioner" that contains the perfect combination of smooth, creamy ingredients that coats the hair shaft's cuticle layer with mineral rich ingredients, for the best possible comb out, color preservation, scalp protection and scalp comfort. This hair conditioner is an ideal product for African American texture of hair.
Price: $17.50
Size: 8 fluid ounce bottle
[wp_cart_button name="Scalp Protection Conditioner" price="17.50″]
Most Hair Products Are Not Within The Correct pH For African American Hair
In the United States, chronic dry hair doesn't seem to plague other races of hair as it does African American hair. This is why shampoos and conditioners that are being offered at the neutral 7.0 pH level is not conductive to black hair. It's pretty much the same as using plain water. If you're not African American, your hair does not suffer from chronic dryness and can thrive without acidic hair products because sebum can easily flow down the entire hair shaft of a straight hair strand. Hair that is less tightly curled, such as straight hair, does not need a particular type of hair product that offers moisture protection. The pH level 4.5 to 5.5 is the most appropriate pH levels of conditioner and shampoo for black hair.
How Scalp Protection Conditioner Can Help Your Hair
Restores moisture
Adds shine to dull, ashy hair
Rinse with lukewarm water
Strengths the hair so it's not brittle
Makes the hair more flexible and free-flowing
NOTE: It is very important that you apply the Scalp Protection Conditioner from the scalp all the way to the ends of the hair. Leave the conditioner in for 5 to 10 minutes, rinse with lukewarm water. Then prepare hair for styling.