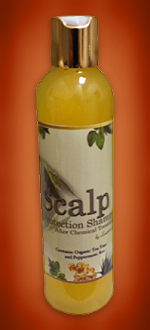 Why use pH-Balanced Shampoos
After chemical usage you need a shampoo that not only washes away chemical residue, but can also balance harmful pH levels, be it too low or too high. For the health and well-being of your hair, it is important to use the best brand of pH-balanced shampoo such as Louticia Grier's Scalp Protection Shampoo. Healing begins when the scalp skin is in perfect harmony with its natural pH environment.
Price: $17.50
Size: 8 fluid ounce bottle
[wp_cart_button name="Scalp Protection Shampoo" price="17.50″]
The outside of your hair shaft is made up of overlapping scales, called the cuticle. Alkaline shampoos, and even water, will cause the scales to open, which exposes the interior of your hair shaft, called the cortex. A slightly acidic shampoo will balance this and close the cuticle, thereby protecting the inner cortex from abuse and keeping your hair looking and feeling healthy and vibrant. The cuticle helps the hair shaft to retain vital moisture. If that moisture dries up, then the hair will look brittle and dull.
The most flattering attribute of the Scalp Protection Shampoo is the softening particles that grab the hair's cuticle layer, smoothing them into alignment. This creates smoothness, shine and detangling that leaves the hair clean, soft and properly prepped for styling.
How to use Scalp Protection Shampoo
For Dry Relaxed Hair / Natural Dry Hair & Dry Scalp:
Comb hair thoroughly
Apply shampoo, slightly massaging it into hair.
Rinse with lukewarm water
Apply shampoo for a second time, slightly massaging it into hair
Leave shampoo in for 5 minutes
Rinse with lukewarm water
Towel blot the hair