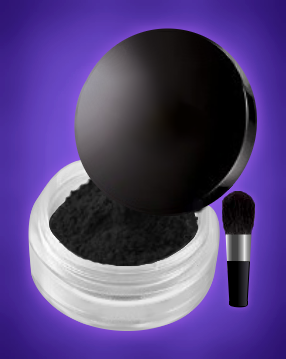 Need Coverage For Thinning Hair?
Build dramatic hair volume and density in seconds with Spotlight Ready Hair Fiber Powder. This all-natural solution for women and men will produce a safe and truly effective way to completely eliminate the appearance of baldness or thinning hair.
Price: $28.28
Size: 45mL jar
[wp_cart_button name="Spotlight Ready Hair Fiber Powder" price="28.28″]
As a professional woman who is very sensitive about the way she presents herself, Louticia Grier has developed a product that keeps you looking your best. Louticia is always on the go and cannot afford to be not "spotlight ready".
Spotlight Ready is a hair fiber product for those little thin areas such as the crown of your head, thinning hairlines, or your side parts that you can't seem to cover. It blends with and bonds securely with your existing hair to dramatically build up your hair structure and volume.
Hide Your Bald Spots with Hair Building Fibers
Spotlight Ready is packaged in a compact cosmetic jar for easy travel and storage. It also comes with a brush, sifter cap for even distribution during application, and a bottle of Hold & Body Spray. No one will know the product is for hair coverage.
After applying hair building fibers to hide your bald spots or your thinning areas, your hair will look fuller and have a thicker appearance and the product is undetectable. You can walk with confidence into those business meetings or have a carefree night on the town with your friends.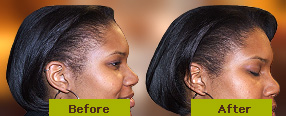 Hair Fiber Powder Before and After
This is Jamilla. During each of her pregnancies, her hair was thinning on the sides. She used Spotlight Ready "Hair Fiber Powder" to conceal her "thinning hair" around your edges to create the appearance of hair thickness. Many women suffer from "hair loss" during pregnancy and applying "hair thickening powder" can dramatically fill-in those sparse hair areas which will not only enhance your appearance, but oftentimes will also improve self-esteem.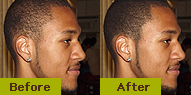 Fella, "Spotlight Ready Hair Fiber Power" is for men too! It's important to the ladies, as well as it should be to yourself, that you always look your best. This young man is always conscientious about his appearance. So, the fact that his hair always looked uneven when he got a haircut, giving the appearance of "balding", was not the look he was striving for. By applying "hair building fibers" to his uneven sides, he was able to create the evenness that was lacking for a more smooth look.
What Makes Spotlight Ready Hair Fibers a Great Product?
Packaged in a small cosmetic jar for easy travel.
Small size packaging that fits in any size cosmetic case, pocket, or handbag.
Contains a brush, sifter cap for even distribution during application, and hold & body spray.
Completely covers thinning hair areas and is undetectable.
Ideal product for both men and women.
Refine formula that adheres to the applied area.
Dramatically builds up hair structure and volume.