Hair Replacement Systems for Children
Between school, peer pressure, and the general business of being a child, children already have a lot to deal with. And children with hair loss can undergo additional tough times. We have helped many children who suffer from various types of alopecia and we understand their needs. Your child should not have to be without their hair nor should they be restricted from activities with their friends because they're fearful their wig will come off.
As your child matures, their hair styles will evolve. As a professional Hair Replacement Systems Specialist Louticia Grier can change hairline shapes, decrease or add densities, beautiful color effects, and so much more. Bottom line, just as a real head of hair grows, densities changes, etc., so will your Diva's Hidden Hair system as we work with you through your growing phases.
Unless your child is making a statement and has made a choice to not have hair, there is no reason your child should be bald or have to wear uncomfortable or unnatural looking wigs. We assure you that we will help your child to lead a more productive life without feeling self-conscious about their hair loss.
Hair Prosthesis Designed for Children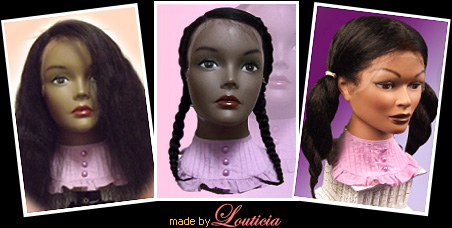 The custom hair systems we make for adults are durable, with-stands all types of activities, and made with 100% human hair. Our children hair systems are custom made with the same focus and quality. Given that "A Diva's Hidden Hair" is the most talked about hair systems in San Diego, CA, you are familiar with the unmatched quality, precision, and attention to detail that Louticia Grier renders in each custom hair system she designs.
Louticia Has the Solutions for Child Hair Loss
Our custom hair systems for children are easy to maintain and very comfortable to wear. Your child will feel as though it's their own natural hair as they comb it, shampoo it, and style it to their delight. Playing sports? Swimming? Have no fear; your child custom hair system will remain secure on their head.
Did you know that if you have long hair and your child has hair loss, you can donate your hair for your child's hair system? We will cut your hair at our beauty salon and we can make your child a custom hair replacement system with your hair. That is a very special gift from mom or dad! To learn more about this special gift, call Louticia Grier at A Diva's Hidden Hair at (858) 259-6833 or please feel free to contact us online.
Louticia is a hair systems maker, wig maker that can keep the hair system in excellent condition, saving you the expense of having to purchase hair systems on a regular basis for your child. And considering that Diva's Hair Systems lasts for more than two years, your hair system will be more cost effective than some of the other companies.