What a Refreshing Discovery!
For hair loss prevention and scalp chemical burns. "Scalp Base Protection" is a new concept in scalp care. As a Hair Replacement Specialist, Louticia Grier cares about what goes underneath your hair system. If your scalp isn't comfortable, it doesn't matter what you look like because all you'll think about is how uncomfortable your scalp feels.
Price: $14.99
Size: 4 ounce jar
[wp_cart_button name="Scalp Base Protection" price="14.99″]
Did you know that after a chemical service the scalp is traumatized so much that it needs your help in recovering? The scalp is stripped of its natural skin and the natural growth phase is disrupted. This interrupts hair growth and leaves the follicles to recover on their own.
The concept of scalp protection should not only be mandatory and well received, but should also be integrated into every salon service. The skin layer that house's our most prized possession which is our hair. The professional who respects the scalp as such, will definitely love Louticia Grier's Scalp Base Protection product which contains a therapeutic mix of some of the most skin safe and healthy set of ingredients for scalp care.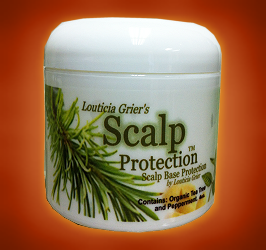 The Scalp Protection cream is easily applied giving the user the security of protection while they're receiving a salon service. This type of security given by a beauty product gives your scalp a soothing feeling that removes the fear of harsh chemicals that often leaves the scalp tender and sensitive. My favorite part is the after chemical therapy element, scalp protection allows the scalp to resume its natural scalp mending process; this way the scalp can re-adjust and balances out. One thing that drives this product line is Louticia Grier's vision of healthy hair. First it's a vision of healthy scalp, then comfort and then beauty, this is simply what any advocate could only hope for the entire industry to participate in. Louticia Grier's Scalp Protection feels as good as it is healing and fun as it is therapeutic.
Problems it solves:
Overlapping which causes breakage.
Chronic sore and scalp burns. Scalp burns will also cause your scalp to become very sensitive.
Prevents scalp trauma such as scalp tightness and swelling.