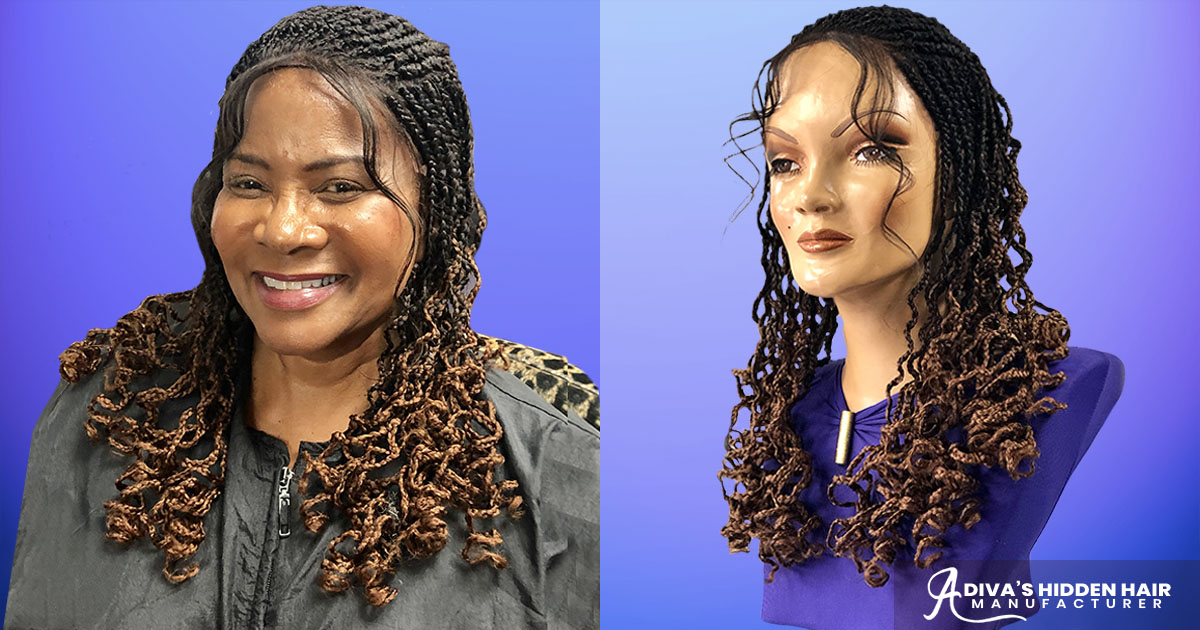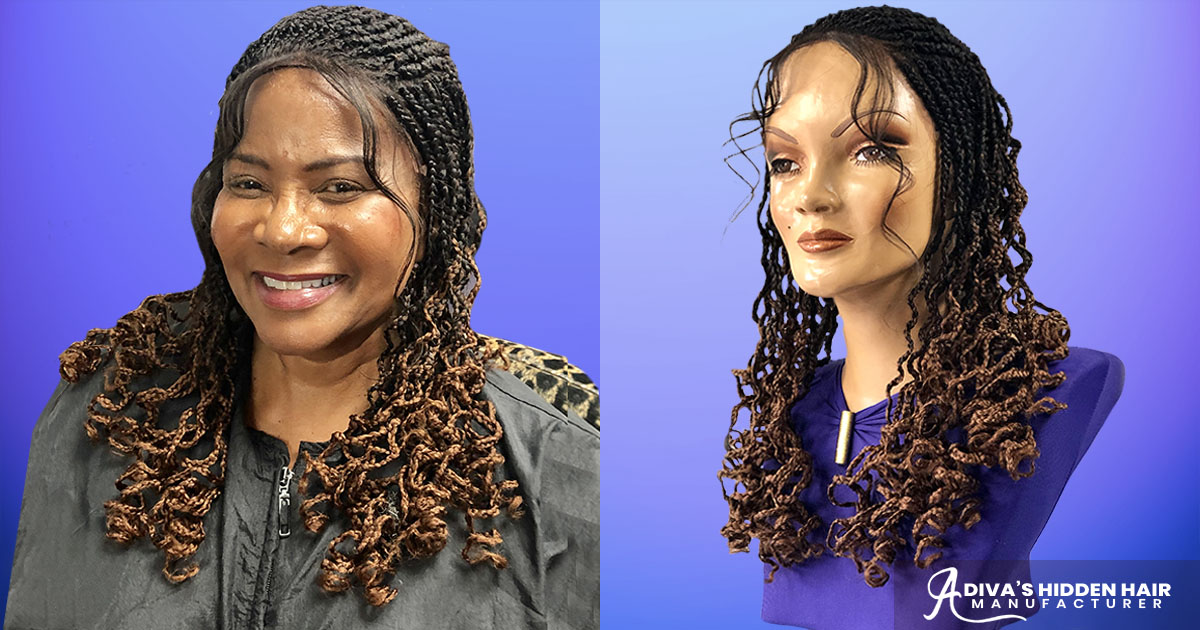 It's time to unveil the truth. The truth about the swanky look of elegant African American braided hair systems. They can turn heads in admiration of their beauty and style when a woman is wearing one.
A Diva's Hidden Hair Manufacturer, located in Solana Beach provides the most authentic handmade braided hair systems in the world. And, we ship worldwide.
African American Braided Hair System Texture and Style
Frankly, it's all about the texture and type of braided hair system an African American woman wants. We only use the very best quality hair to make our braided hair systems. Don't confuse braided hair systems with braided wigs.
Unlike braided wigs, our braided hair systems do not contain flaps on the side. And, they are full lace systems. Plus, you don't have to clip it to your natural hair and pray it doesn't move around. Instead, we gently braid your natural hair in such a way that your handmade braided hair system lays flat to your scalp. Then, we use the sew-in method to securely attach your system to your scalp.
What about styles? Glad you asked. From complex fishtails to intricate Senegalese twist, A Diva's Hidden Hair Manufacturer custom make the braided hair system for black women you've been searching for! And, we can create it in any style, color, or length you want. Looking for stylish box braids, kinky twist, or goddess locs? We can do those too, and more!
Essentially, we are experts at what we do. So, if you're not interested in the most common types of braided hair, just let us know what you want designed.
Braided Hair Systems are a Time-Saver
Traditionally, you would purchase hair and then take it to your favorite salon. The braiding process can take anywhere from 4 to 8 hours or even longer. Basically, your whole day is spent getting your hair braided.
Conversely, your custom braided system is made ahead of your installment appointment. When you come in, we shampoo your hair, braid it, and attach your new system. You're out the door looking fabulous and ready for a shopping spree.
During your appointment, your stylist will discuss how to maintain your new 'do at home. Oh, and we have great hair care products for at-home use as well. Incidentally, they are available for purchase in our salon also.
While you're here, don't forget to join our mailing list for sweet deals and huge savings. If you're on a wide screen device, our sign up form is just to the right of this article. Smaller devices, just scroll down below this article to sign up.
To schedule your no-obligation consultation, call (619) 820-0290 or schedule online.
You may also enjoy reading: Wedding Day Hair For More Than Just The Bride