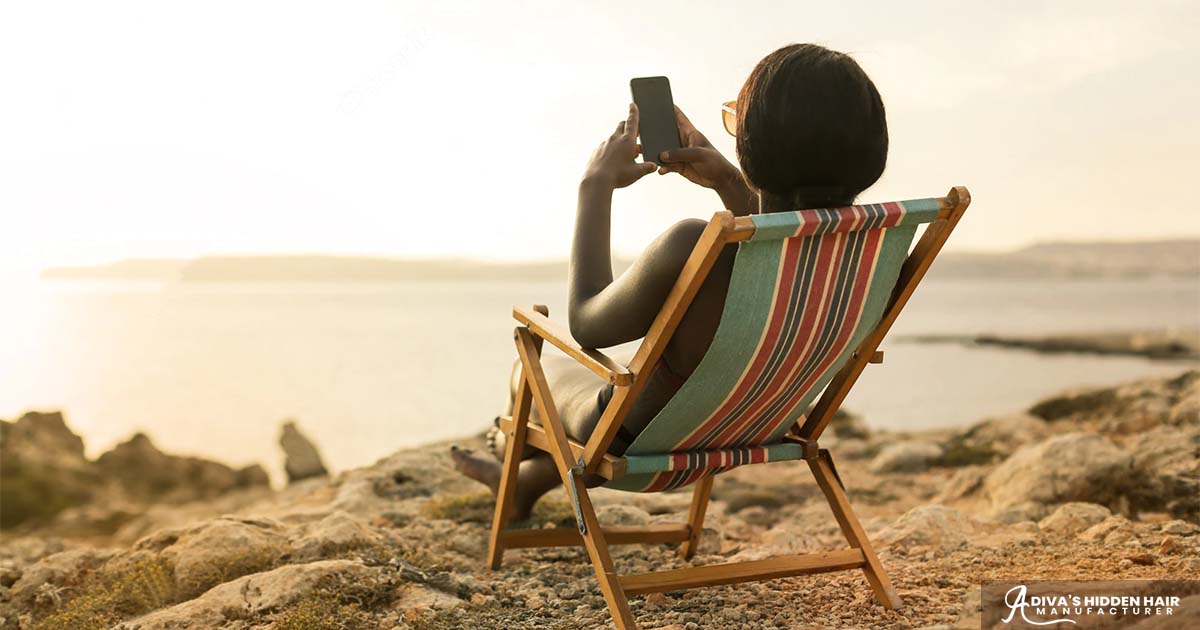 Protecting your scalp is equally as important as making sure you protect your hair from sun damage. Summer will be here soon, and as the sun gets hotter, the UV rays can cause damage to your scalp and hair. For this reason, hair sunblock, scarves and hats can protect your hair from sun damage.
We're all aware of the concept of applying and reapplying sunscreen to the skin when out in the sun. Particularly during the summer. But did you know that the sun can also cause damage to your scalp and hair?
Sun damage can present itself as broken or split ends, discoloration, thinning and frizziness, and brittle strands. In fact, sun damage can happen to almost all hair types, but there are ways to keep your scalp and hair protected.
How To Protect Your Hair From Sun Damage
During the summer, your hair is overexposed to UV rays. When it comes to color-treated hair especially, the result can be excess dryness and compromised color. For instance, brassiness and even changing of hues.
Most people frequent the beach, ocean, pools, etc., to enjoy swimming during summer. When your hair is exposed to chlorine or salt water, your hair can be stripped completely of its natural oils, leaving your strands brittle. Consequently, you should always rinse your hair thoroughly after swimming. Better yet, wear a swim cap to help protect your hair!
Not only that, but chlorine can cause a chemical reaction that leads to increased dryness, split-ends, and breakage. Then there's the extra sweating during the summer which can prompt increased dandruff production.
Obviously, there's a lot your hair faces during the summer. Not to worry though because we'll show you how to protect your hair from the sun to avoid damaged hair.
Best Products For Summer Hair Protection
The best products to protect your hair from the sun are nourishing damaged hair products that moisturize. So, look no further than the below list of hydrating and emollient formulas to add to your cart ASAP.
Scalp Protection Shampoo. It would be counterproductive to stop shampooing your hair during the summer. So, when you shampoo your hair, make sure to use a rich, hydrating formula like this one. Not only does it properly cleanse your scalp and hair, but it also does not exacerbate dryness.
Scalp Protection Conditioner. Regardless of your hair regimen, you must use a conditioner to restore your hair's moisture level. This condition not only strengthens your hair, but also adds luster to dull, dry hair.
Beautiful Hair Renew Lotion. If your hair is tangled from swimming or other summer activities, this is one of the best hair detanglers on the market! Plus, it revives and moisturizes curly hair as well as work well with flat ironing.
Using Sunscreen On Your Scalp
Your desire to protect your hair from the sun may mostly be a desire to keep your hair manageable and shiny. But it's important mention that our scalp requires more powerful protection from the sun.
While a sunburnt scalp may sound uncommon, the top of your head is one of the most prone areas to sunburn on your body. And it's probably the last area you're thinking about while enjoying the sun, so it's important to keep it protected.
Since your scalp is also part of your skin, you should apply a regular SPF product that actually prevent cell damage from UV rays.