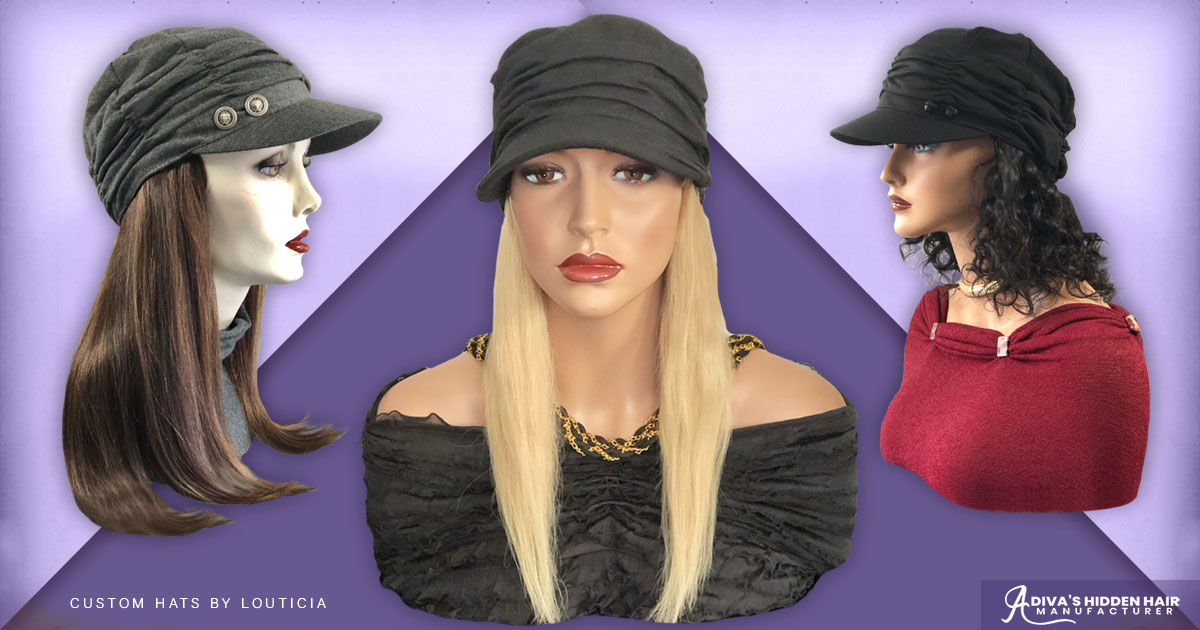 Are you looking for hats with hair sewn in for women? Then, you're going to love our designer hats with hair at A Diva's Hidden Hair Manufacturer!
In fact, hats with hair sewn in are perfect for women with hair loss. And, since hair loss is due to alopecia, chemotherapy, and other reasons, our hats with hair are scalp-conscious. The part of the hat that sits on your scalp is made using soft, comfortable material.
If you wear a wig like lots of us women do, getting it to look and fit just right can sometimes feel like an art project.
There's the wig cap, wig, glue, hair products, and clips. Then, you spend unnumbered hours washing, attaching, and styling it.
Because of all that, sometimes, we just want to wear a hat.
And, really, who can fault us for that? A hat is a ready-to-wear and stylishly accepted look.
You're probably thinking, "I'm a total diva in a beret, but there aren't any hats made for a sensitive scalp".
Well, ladies, we're not sure how that rumor got started. But it's just that; a rumor.
Not only can you wear hats with hair sewn in if your scalp is sensitive, you should! They are a great way to protect your already sensitive scalp from the sun and other environmental factors.
Plus, you can easily switch up your styles, and jet out the door for shopping, doctor's appointment, or night on the town.
Unsure about how realistic hats with hair sewn in will look? Keep reading.
Hats With Hair Sewn In
As previously stated, sometimes getting our wigs looking just right can be a daunting task. But wearing a headwrap can make some women feel too exposed.
Aha – hats with hair!
They are exactly what it sounds like: they're hats with hair already sewn in.
We offer hats with hair in a number of styles. Plus, our full range of hair colors and lengths allow you to have virtually any style of hat you desire. At A Diva's Hidden Hair Manufacturer, we custom design each hat and attach 100% human hair. But, if you prefer synthetic hair, just let us know. We can do that too. And you can check out our hats with hair sewn for women at our Uptown New York Style hair salon in Solana Beach.
Buy The Right Type of Hat For Warm Weather
Generally, for warm seasons like spring and summer, choose hats made of lightweight material. The last thing you want is to feel like your scalp can't breathe due to hats made of thick, heavy materials.
Our custom, designer hats are made of 100% cotton or bamboo nylon. These types of materials stop yourself from overheating. Plus, many of our ladies have told us they really like the bamboo nylon material. It's an ideal hat material for women with sensitive scalps.
Winter Tips For Wearing a Hat With Hair Sewn In
This is the perfect time to talk about this as we're smack dab in the middle of the winter season.
The thing to know about cooler weather is that the air is dry. Therefore, our skin, scalp, and hair will be dry also. Conditioning your scalp is a necessity when weather gets chilly starting in October. A quick shoutout to our clients and friends on the East Coast.
While we don't experience the chilling temperatures like some states, we do have our own kind of cold here in California. So, using products like our Scalp Protection Conditioner will keep your scalp healthy during winter hat wearing season. Oh, and don't forget that before the conditioner, using a quality scalp focused shampoo is recommended.
Have a tip about wearing a hat with hair sewn in that we missed? Let us know in the comments section below!
You may also enjoy reading: Why Your Hair Is Constantly Shedding