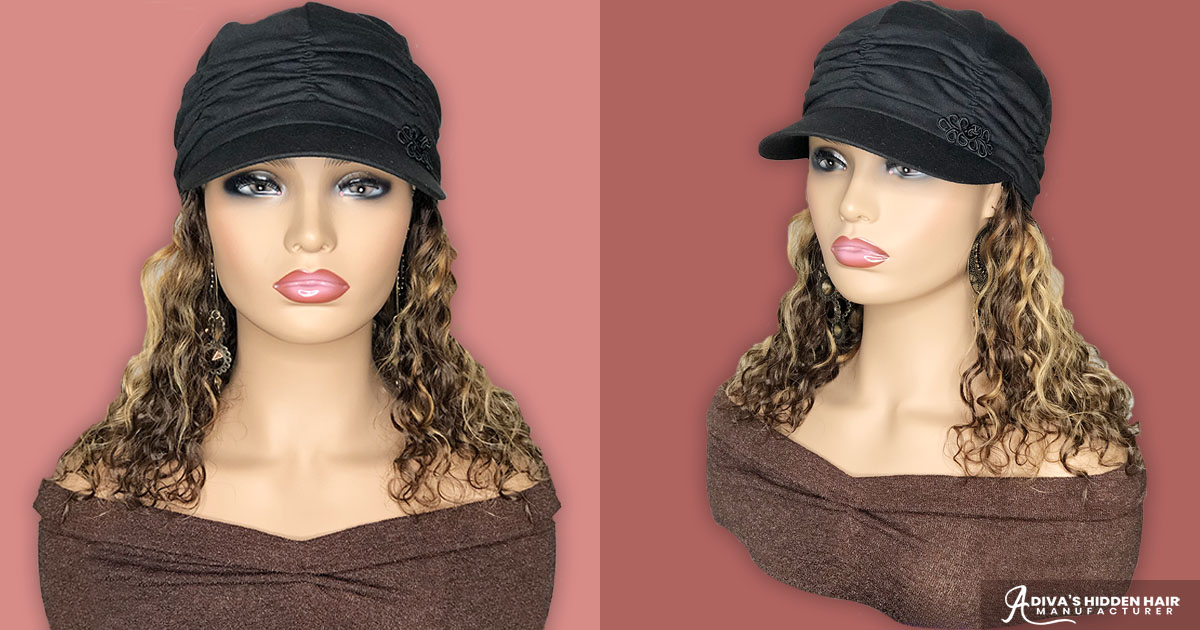 Our collection of hats with hair attached for women is all about convenience, comfortable style, and innovation. If you're looking for something lighter than a wig, browse through our selection of beautifully styled hats with hair for women.
From curly to straight hair, 14 inches to 24 inches, dark colors to tricolor hair, we're sure you find just the perfect product. For once, hats with hair attached is something to love!
Hats With Hair Attached For Women
For California and many other states, we're on our second lockdown, stay at home order. But, we still need to go out for necessities like groceries. And while this second round of lockdowns can be depressing, you're want to look your best when needing to go out.
So, our hats with hair for women will give you that finished look in a matter of minutes. They are gorgeous, light weight hats with cute embellishments like small hat color flowers. And the hair! Well, you'll look like you spent all morning getting ready and it only took you less than 5 minutes.
If quality is your only consideration, our hats with hair attached are made with 100% human hair. The hair is remarkably soft with a shine and movement that is not easily duplicated in synthetic hair. Human Hair can be cut and styled to suit your personal tastes.
If you're looking for hats with hair attached for women, then you're going to love our hat hair.


In fact, our hats with hair attached are perfect for women with hair loss. And, since hair loss is due to alopecia, chemotherapy, and other medical conditions, our hats with hair are scalp-conscious. The part of the hat that sits on your scalp is made using soft, comfortable material. Wigs can be very itchy and uncomfortable. These hats were designed with comfort in mind and the ease of being able to put it on and go.
Best of all, there are no more bad hair days. You can be as beautiful as you truly are and feel free to be whoever you want to be. Our hats with hair attached for women allows you to easily transform your look.
You can wear our hats with hair over your own hair, or if you have no hair at all.
Choosing A Hat During Chemotherapy Treatment
Here's what to look for when selecting a hat with hair to wear when you've lost some or all of your hair:
Comfort & Secure Fit: Your scalp may feel sensitive or irritated when you're losing your hair due to treatment. So, look for headwear that is made from a very soft, breathable fabric. Some people like to wear a liner cap under a hat or wig for comfort and to keep it in place. You don't have to worry about any of that with our hats with hair for women. They are comfortable, light weight, and made with a rayon/cotton blend for breathability. Plus, they fit securely to your head, but not too tight.
Full Coverage: Many people with hair loss prefer head coverings that extend to cover the whole hairline, the nape of the neck, and the ears. Headwear with this level of coverage hides hair loss and offers better protection from the sun and cold air. You may find that some hats you already own and have worn in the past don't offer enough coverage. Our hats with hair attached provides full coverage. Additionally, they are fashion hats versus the standard old baseball caps. And the attached hair is 100% human hair with many different colors, textures, and lengths to choose from.
Suits Your Personal Style: You'll probably feel most comfortable in head coverings that make you feel attractive and that go with your wardrobe and your taste. A good question to ask yourself is "would I feel good wearing this if I didn't have hair loss?" That's the beauty of our hats with hair attached for women. In addition to the fashionable hats, you can choose the hairstyle, color, texture and length you want.
You may also enjoy reading: Hats With Hair Attached