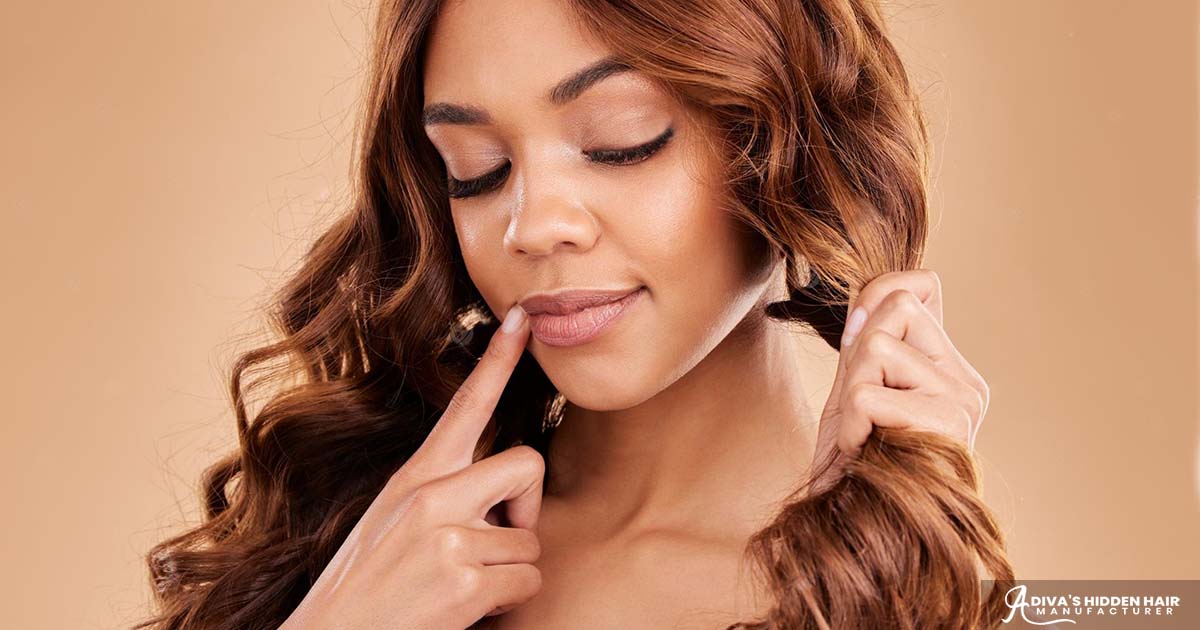 Whether to choose a wig or hair extensions requires knowledge about both in order to make an informed decision. In fact, they both allow you to achieve longer, fuller hair. These two ways of changing your look provides similar results, but different application.
Another thing to consider is the purpose. Are you trying to conceal hair loss or just want more length to an already full head of hair? You will also find that whether you choose a wig or hair extensions, each have aspects that are unique to the hairpiece.
So, to help you choose between a wig or hair extensions, let's see what each one brings to the table.
What Is A Wig?
A wig is a type of premade hair system that is used to wear over your existing hair or bald scalp. Wigs are the preferred solution for addresses various types of hair loss problems. They have been around for centuries and are used for many purposes. For example, theatrical wigs, medical wigs specifically for cancer patients, general hair loss wigs, and wigs as a fashion accessory. The pros and cons of wigs include the following.
PROS:
Protective Style. One of the most common benefits of wigs is that they provide protection for your natural hair by covering it. Of course, you need to care for your hair underneath the wig, but they can shield your hair from harsh weather.
Privacy. Hair related problems like hair loss for whatever reason are kept private. Wigs are an excellent choice for concealing hair loss.
Versatility. Due to the various types of wigs such as lace front, they offer the versatility of styling them any way you like. Not only that but you can apply hair dye to human hair wigs.
CONS:
Discomfort and Heat. In hot and hum weather, wigs can sometimes be uncomfortable. In addition, extended wear makes the scalp itchy, sweaty, and in some cases, irritated in hot weather. Albeit there have been huge advancements in the production of breathable, lightweight wigs, they can still cause discomfort at times.
Cost. High quality human hair wigs are quite expensive. The price varies depending on the type of hair, cap construction, and craftsmanship.
Adjustment Period. First time wig wearers find it challenging to adjust to wearing a wig. Due to the additional weight on their head, it takes time to adapt to wearing one.
What Are Hair Extensions?
Hair extensions are individual strands of hair made with either human or synthetic hair. These extensions can add length and volume to your natural hair. Unlike wigs, two popular methods of attaching extensions to your hair is sewing them onto your braided hair or clip on. The different type of hair extensions include clip-in, weft, sew-in, tape-in, and bonded or fusion.
PROS:
Natural Looking. High quality hair extensions provide a seamless look when attached to your natural hair. Not only that, but color can be applied to human hair extensions that matches your natural hair. There's also wide variety of hair textures that blends well with your hair.
Length and Volume. One of the main reasons why people wear hair extensions is to add volume and length to their hair. For this reason, extensions instantly transforms short hair into longer, fuller locks.
CONS:
Professional Application. Except for clip-ins, hair extensions generally require professional assistance.
Potential Damage. Although hair extensions are considered a protective style, they have the potential to damage hair if not applied and removed properly. In addition, lack of care can lead to shedding, scalp irritation, and hair breakage.
Cost. High quality hair extensions made with human hair are expensive, even for the shorter lengths. Because proper care and maintenance must be done regularly, the overall cost can be expensive.
Which Should I Choose: A Wig or Hair Extensions?
We suggest choosing a wig instead of extensions if you're covering hair loss or other hair issues. Extensions are not recommended for damaged or weak hair as they will only exacerbate the problem.
Choose hair extensions if your goal is longer, fuller hair and your hair and scalp are healthy.
You may also enjoy reading: Why You Shouldn't Get A Relaxer and Color On The Same Day